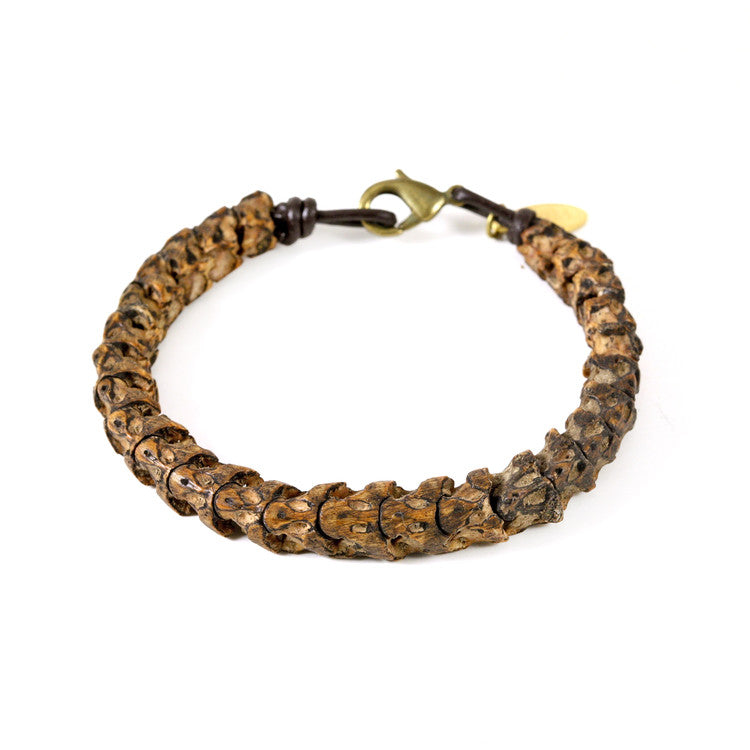 Snake Vertebrae Bracelet
Regular price $98.00 Sale
One of our Signature pieces, this exotic bracelet is made from authentic African Snake Vertebrae, strung on brown leather cord, and finished with a brass lobster clasp. Equally stunning on men or women.  Color ranges in shades of tan to dark brown.
Our snake vertebrae beads originate in rural Africa. The snakes are consumed as food and their vertebrae are then used in divination rituals. It is believed the beads represent the bones of their ancestors. We strive to respect their origin by breathing new life into something that might otherwise be discarded.
About Astali:
ASTALI Jewelry is designed and hand-made by Los Angeles-based artist, Shannon De Jong. Since her childhood in rural Iowa, she has been collecting discarded objects and re-purposing them into something new and useful. She eventually began to customize jewelry and would find ways to turn just about anything into an adornment. Since moving to Los Angeles in 1997, Shannon has cultivated her passions for both music and jewelry. By night she performed with rock bands on her violin and viola. By day she worked behind the scenes for many successful L.A. jewelry designers. She worked her way from production, to sample-making, to design, and then onto management of both design and production teams. She always kept a home studio to refine her skills and design concepts. Her double life as a designer-by-day and rocker-by-night culminated in the birth of a line attributed to an alter-ego she named Jack Astali. As the line evolved, its subversive, rebellious nature emerged. Hallmarks of ASTALI designs include rugged and unexpected materials - bullet casings, fool's gold, snake vertebrae, buffalo teeth, vintage peepshow tokens, porcupine quills, reclaimed wood, and much more. ASTALI became a full-time endeavor when Shannon moved to New York in the Fall of 2008. After establishing her brand for 3 years on the East Coast, she has returned "home" to Los Angeles to build on that momentum from sunny California. She continues to re-purpose the objects she collects, finding inspiration equally at Natural History museums and flea markets. When she is not making jewelry, Shannon is usually hanging out with her 6-year-old son, California Jones, who loves exploring in her studio. She also shares her work space with 4 chinchillas that have been along for her ride since the beginning.